MINDSCANNER FANFIC

---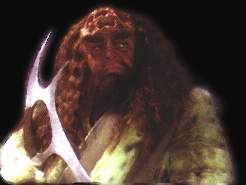 A Life Considered part 3 by Qob
Each of the combatants stood opposite on the edge of the circle,
stretching. Kahless sat; his legs splayed at 180 degrees of each other
and leaned forward touching his ankles with his fingertips and kissing
the ground in front of him.
Next he placed his hands palm down to each side of his head and
lifted his body, legs still akimbo, and did four quick push ups and pushed
his body high into the air. Tucking his knees together he flipped in
midair and landed softly on his feet facing the circle.
Across the circle, Horaq reached out slowly and, grabbing the
air, pulled his hands slowly to his body. Next he slowly raised his
legs alternately and pointing his toes out leisurely, leaned backwards to
retain his balance. "The Mokbara," whispered Kahless, suddenly feeling
somewhat foolish at his flashy display.
He saw that though Kahless was unmatched in speed, the power
inherent in Horaq exceeded his. He would have to be faster than the
warrior; he would have to be the rodent to Horaq's dragon, using his
swiftness to neutralize Horaq's intense power.
The stretching done, a voice yelled, "Begin!" and the warriors
entered the circle. Kahless crouched and scuttled back and forth looking
for an opening. Horaq stepped forward lightly on the balls of his feet.
They circled for a few moments. Kahless sensed the left fist of
Horaq snake towards him. Falling back , he reflexively dodged to his
left. "I didn't see that coming," he marveled to himself. A few more
moments of circling and a left again snaked forth. As Kahless
dodged it he felt a sudden crushing blow to his left temple that sent him
sprawling. He blinked and looked up to see Horaq standing still.
Kahless stood up and stood very tall. He stretched forth his arm
palm up and beckoned Horaq forth. They circled and feinted for long
minutes. Kahless knew now his death was possible and the hairs on his
neck stood up. He snarled and spit and with a rage-choked voice called,
"Come! Come and die!"
Horaq jabbed once more and Kahless flipped back and planted both
heels in Horaq's neck. Horaq fell like a large tree, teeth and blood
spraying forth. Kahless jumped forward and received a kick to the ribs
for his effort. Horaq jumped up to tackle Kahless. There was
no respect for each other now, only feral rage in both men's eyes.
Kahless jumped back and rained punches onto Horaq's head. Horaq
shrugged it off and fell back. Standing, his eyes burned with a deep fire
of rage and fear. "Qapla'!" screamed the crowd, seeing that
this was a match to stir the blood of any warrior.
"We fight to enrich the spirit." Kahless is quoted as saying on
another day. This battle gave the truth to the saying. With every blow,
every feint, the warriors gained enlightenment about themselves:
strengths and weaknesses, courage and inner cowardliness.
The battle fell into a pattern; Horaq would thrust anew, Kahless
would parry, and strike the slower Horaq. Horaq would land a few
crushing blows and Kahless would answer with five swift punches. Finally
as the evening birds began their song and shadows painted the campsite,
Kahless knocked Horaq down one last time and called for surrender.
A casual observer would have been surprised by this since they were
both battered. The blood of Horaq flowed more freely, but Kahless felt
he might have broken bones, it hurt to breathe.
Only the fact that Kahless remained standing gave clue to the dominator.
Horaq struggled to speak, and failing that shook his massive head
in the negative. This shocked the standing combatant. Kahless dropped his
guard for a moment. "What must I do to defeat you?" he said half to
himself. Horaq smiled, the first smile Kahless had seen from the legend, "You can
not defeat me Kahless, you may only kill me!"
Horaq almost laughed with joy at the sight of death. Kahless then
knew that Horaq had been hoping to live to see such as Kahless. The Elder's
life had lost any meaning; he had no enemies left. Kahless knew that he
had only two options: to kill Horaq, take his army and leave triumphant
or to become more than Klingon. He stood there long moments trying to
find the second way, to become what he was not and did not know. Then he
understood what he must do.
Kahless looked at his broken and bloody hand. He glanced down and
saw its twin on the arm of Horaq. "I cannot defeat you? Only kill you?
You are wrong Horaq! I can do neither!" He grabbed the hand of Horaq.
Both the warriors hands where broken and bloody, their blood mingled
as Kahless raised him up, "This man is flesh of my flesh, my blood kin
whose spirit I share! We gladly proclaim this battle over! We are all
victorious!"
to be continued…
Never say "never", Part Three
by Zathras
The "Annoyance" was running flat out from its pursuer.
"Warp 2.2 achieved"
"Intruder closing at warp 2.8 relative"
"We need more...."
"There is NO more we can get from these engines! We've already lost some good men just keeping them operating at this level!"
The ambush had gone well. There'd been only one enemy that had found their trail. In their haste to keep the "Annoyance" in sensor range they'd carelessly followed their target by a ringed gas giant. The rings momentary hid "Annoyance" and that's all the wounded ship needed. Slipping behind a "moon" not much larger than the ship itself they fired point blank as the enemy passed by, crippling it. There was no time to finish them because now the enemy would know where they were and they had to hide themselves in the stars again. Unfortunately that had failed and yet another ship was running them down with nowhere to hide, no chance to outrun, and outgunned as well.
"Intruder closing to 300,000 kellicammey"
"Annoyance" shook as torpedoes detonated nearby. The range was extreme and the accuracy poor, but the intent was clear.
"Intruder is hailing us, ordering us to stand down."
"Weapons, what's our status for engaging them?"
"The intruder's a light cruiser class. Even at full capacity they outgun us by over 50% and they know it. Under present conditions, almost double."
"Then we should do something to surprise them. Prepare to reverse course and engage the enemy!! Engineering I want the following preparations...."
* * * * * * * * * * * * * * * * * * *
On the bridge of the cruiser "York" the captain watched the tactical display. He had to give credit to that banged up little ship and it's crew. They'd lead them on a merry chase and cost more than they would normally be worth. But the orders were to stop them at any cost. Now the game was over, there was nowhere for them to turn. It was all just a matter of time.
"Target is dropping out of warp"
"Are they standing down?"
"Negative. They've done a tight turn on impulse and are now under warp on an intercept course. Their fire control is locked on us."
"Alright, if it's a glorious death they want we can give it to them. Battle Stations!........"
* * * * * * * * * * * * * * * * * * *
On "Annoyances" bridge it's commander watched as the two ships closed on each other
"Range to intruder"
"150,000 kellicammey. Closing at warp 3.45 relative."
"Engineering, are things in order?"
"On your command."
"Status of intruder's weapons."
"Fully armed and locked. They're holding their fire though."
"Fools. Humans would call this a game of chicken, waiting to see who blinks first. They forget Klingons don't blink. Range!!"
"50,000......30,000...20,000..."
"DujHom!!!"
The ship's shuttle launched from its bay. The autopilot came active and it started on its course towards the "York" following behind the "Annoyance"
".... 10,000...."
"jor!!!"
A small mine was ejected from its now empty rack. It drifted for a split second away until it met the boundary of the warp field, then it dropped into normal space and was gone

"...0...mark!"
"BAH!!!!!!"

The "York" held its fire to the last instant, confident that they could weather the "Annoyance's" blow and then tear the smaller ship apart. In the instant "Annoyance" locked on it's tractor beam onto the larger ship, fouling it's fire control and setting both ship's warp drives howling to push past each other while locked together. It was a fight "Annoyance" couldn't win, be she didn't intend to try. "Annoyance's" weapons clawed at the "York" and managed to do minor damage. In return the "York" dealt "Annoyance" a punishing blow, sending warning klaxons shrieking on every deck. It would have ended there except that during the exchange the "Annoyance's" shuttle finally caught up and bore down on the "York" through it's weakened shields. The magnetic field holding the anti-matter capsule inside the shuttle dropped and the tiny ship turned into incandescent vapor, along with a portion of the "York's" hull. "Annoyance" dropped its tractor beam and the two ships shot past each other. Before the "York's" sensors could clear from the shuttle's blast it found itself blundering into the mine that had been laid and the ship took another burst at point blank range. The two ships, one now crippled and the other nearly so, drifted apart. The battle was over and "Annoyance" had managed to prevail..... barely.
"Open a channel to the intruder."

"Aren't we going to finish them?"

"I have something far crueler in mind."
"Channel open to their bridge."

The commander looked at the shambles of the "York's" bridge and approved. He'd always thought that Federation ships were too neat and clean. Too sterile and devoid of any personality whatsoever. The smoke in the air, the burns from fires, rents in the walls and floor, yes, it was a considerable improvement. And the look of extreme hatred on "York's" captain's face only added to the pleasure of the moment. Ah, but enough personal indulgences.....
"It was an enjoyable battle we had commander, I want to thank you for it. But you forgot one thing."

"York's" CO gritted his teeth and tried to not sound as he felt, "What is THAT...commander?!"

"There are no dangerous ships......only dangerous captains."
The crew couldn't contain themselves at the insult and laughter rolled and echoed through "Annoyance's" own damaged bridge. They left the channel open to let it echo on the "York" long after they had disappeared into the stars.
To be continued….
A note about submissions!
We need you to submit! A poem, short story a piece of artwork! The more you send, the better this will become. Send them to bhedrick@chof.net
- Qob
MindScanner FanFic Editor