REPORT FROM DARK STAR QUADRANT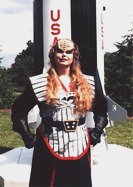 I have returned to active duty as the Dark Star Quadrant CO and would like to thank my House Brother, Lt. Cmdr. Rlikay sutai-Septaric, for taking the reins in my absence.

Now I ask that all Warriors in DSQ prepare to go forward in strength and honor towards the 40th Anniversary of Star Trek and a banner year in 2006. We must never let the huMans forget the name . . . KLINGON!

I really enjoyed hearing the reference to our species in the first episode of Threshold: "And on the 8th day the Lord made Klingons . . . ." Qapla'!!!

I would like all Dark Star Quadrant ship commanders to check in with me regarding plans for 2006; it will be here before you know it.

Long live the Klingon Empire and its number one fan organization: the Klingon Assault Group! Qapla'!

-Keela

Captain Keela sutai-Septaric
keela_septaric@bellsouth.net
keelavestai@yahoo.com
www.geocities.com/katkith/darkstarquadrant/

Leila McMichael
312 Summit Place SW
Lenoir, NC 28645
828.758.5160

---
Below in a 2001 holo-image from Trek For Food are some of the Warriors that recently participated in the Boone, NC 2005 Fourth of July Parade honoring "Heroes Past and Present." Among them is Jorf, aka Joseph Milanese, RN. While traveling home to Fayetteville, NC on March 25, 2005, he came upon an accident which apparently happened in front of him. Rather than collide with the accident, he swerved to avoid it. His truck hit the side rail and flipped several times down an embankment. As a result, he was thrown from the vehicle and killed instantly. Already a hero as an Army Veteran and an RN, he gave the ultimate sacrifice to save others. He is survived by wife, Jennifer (K'neha), daughter Irene, and son Matthew. All of Dark Star Quadrant misses him as does his beloved Cha'ouw Empire and House K'iRK.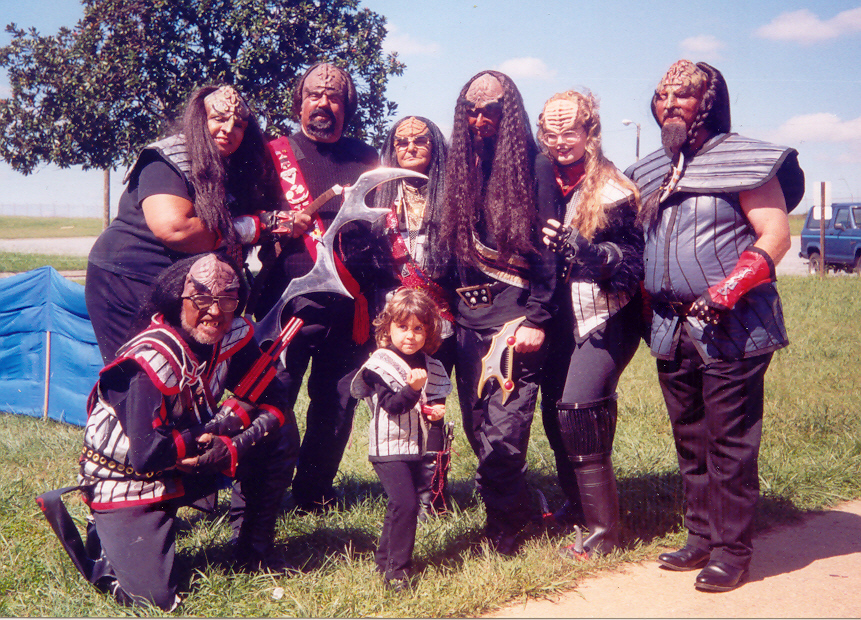 From left to right: Lt. Karrtush Degar vestai-Septaric is a Navy Veteran of KAG's Dark Star Quadrant. Beside him Lt. Ka'Share tai (Penny Black) is an Army Veteran of DSQ. Sir Jorf zantai-Ki'RK (Joseph Milanese), the late CO of the ICV Dragons' Blood, was an Army Veteran. He was in the Cha'ouw Empire, part of KAG's Demonfleet. Lt. Cmdr.Kehlyr Muad'dib vestai-Atratties-Septaric (Judy Hasty) is an Army Veteran in KAG's Dark Star Quadrant. (Lt. Kronin MelbaH tai and Captain Keela sutai-Septaric) Next is Lt. Kalib tai (Bill Black) is an Air Force Veteran of DSQ. (Cadet Lt. K'Terror tai.)

Due to space considerations, some of the KAG veterans' holo-images from the Boone parade could not be used, but glory, honor and the thanks of a grateful nation to them all!