BACK TO BASICS Part 3: Work and Care with Latex
by KwISt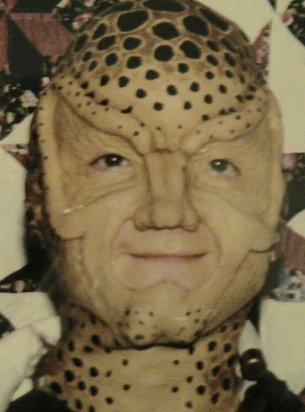 Okay, part one was a bust, and part two we made rubber clones off a clay model. No, I'm not talking about Star Wars prequels... I'm talking about our "Back to Basics" series for a primitive, but effective way to cast latex masks. By now, we have our heads plastered and immortalized in busts; we've made funny faces and have even put color into them. Can we die happy now? Not yet . . . there's so much more to learn!

We now have a creation of our skills: a brainchild manifest in latex, and we need to learn how to protect it. There are toxins and diseases that could end this baby's life. So proper parenting of latex requires some knowledge about what makes this beastie tick.

THE MYSTERIOUS PROPERTIES OF LATEX
Here are some facts about latex you may not have learned before now:

Latex rubber is an organic cellular substance derived from plants, usually tree sap.
Most materials would expand when heated and contract when cooled, BUT NOT LATEX. It's the opposite! Heated up to oven temperatures, it contracts! Cooled to freezing, it expands! This is due to its cellular nature.
Molding latex compound is a solution in ammonia (for its rapid ability to evaporate, leaving rubber behind). It should be stored close to room temperature. Cold can disrupt its cell properties, ruining the batch.
Rubber can degrade easily when contaminated. Even vulcanized rubber will decompose when exposed to products like alcohol . . . which is why newer cars (using plastics) run better with alternative fuels like ethanol and gasohol, while older cars (with rubber hoses) break down quicker.
THREATS TO LATEX LONGEVITY
We often buy molding latex by the gallon . . . but storage must be handled with care. Be sure the lid is on tight so the ammonia doesn't escape; otherwise it'll leave a bucket of dried rubber, at least on the top skin. Also, when the bucket gets a couple years old, it might rust on the edges, so try to keep the rust flecks from falling into the latex.

Rust isn't the only contaminant to watch for. Remember when I said to wash off the Vaseline from the plaster bust? That stuff can give the mask a serious case of the boils. Finger oils and grease likewise. And metallic paints are interesting: Kerla made a winning Xena costume using gold-painted latex . . . it held up great a year or two, and then one day just dripped off the hanger into a puddle of sizzling goo.

And those are just in the fresh mixture. Once the mask is cleanly made, it faces other threats. Dust can chew into the latex, making it filthy and gooey. Molds and mildew can infiltrate it . . . especially if you store it on the plaster bust in a moist environment. Those contaminants can breed into the plaster if it's not kept dry.

COUNTERMEASURES
Clean the headpiece after wearing. Don't use a drying soap too often; it's usually best to use a light solution of rubbing alcohol and dry it off so the alcohol isn't given too much time to react, degrading the rubber.

Keep it on a wig-maker's head . . . many wig shops and mask shops will sell a polystyrine head cheaply, some as little as $1US. This will keep it from distorting and creasing. (But I don't always practice what I preach, so my suitcase of masks looks pretty gnarley.) Straight pins can anchor the mask to the dummy-head without any appreciable damage.

Bag it. A plastic grocery bag can be effective in keeping out dust, as well as other contaminants and desiccants.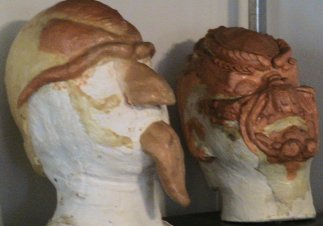 SOME PARTING TRICKS
You can patch and reshape some portions of a completed mask using some of the wet latex compound. The ammonia can permeate the dried/finished latex.

One way I use this is to curl the 'rhino-horn' nose-piece tighter against the noses of a Klingon headpiece. I just dab a bit of molding latex, dripping with ammonia, on the inside of the top nose bridge. Then I curl the nose into a tighter cylinder shape, and tuck it up toward underneath the forehead. The result is very good at helping an easy-to-slip-on half-head to stay gripped onto one's skull.

Another use allows me to "graft" pieces onto a larger mask. When I made a Grand Nagus mask, the ears of clay would fall off the head under their own weight. By casting the two ears and head separately, I could easily "glue" them all back together with a single dab of latex. Likewise, Farscape's Dargo has long tentacles behind his head that are just easier to add afterwards.

CLOSING
I hope this gives you a starting place for working in latex. Better still, I hope you springboard from such meager beginnings into new frontiers of mastering materials. Trial and error is still a scientific method. Enjoy!

- KwISt
me@twisty.org