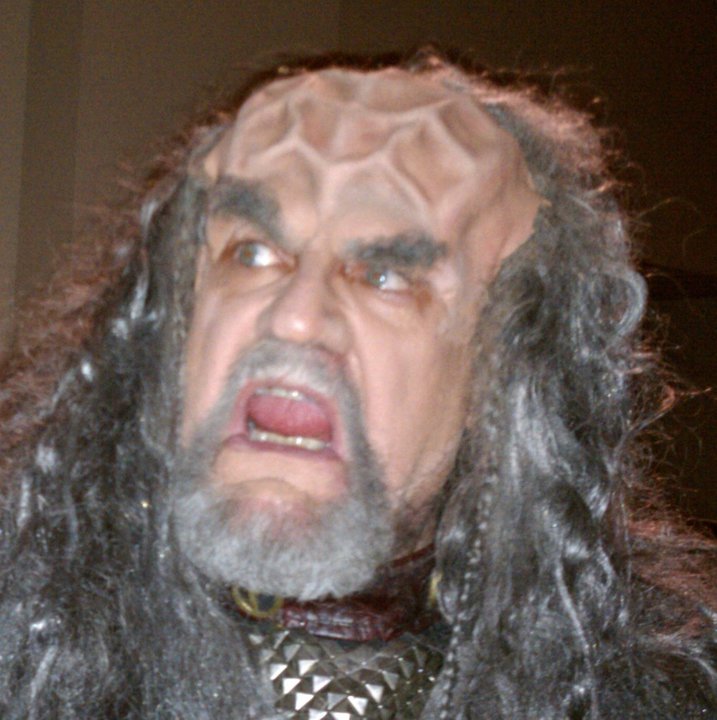 If you want people to join you and play Klingon with you, you have to do more than just look cute. You have to come up with something that people look at and say, "Wow, that is a cool group of fans! I need to be part of this!"

You need to identify what talents you and your friends have and show them off. Show them off in a fashion that surprises and delights people. It's not enough to have a fabulous looking uniform, if there is nothing inside the uniform. Creativity is a must. You don't necessarily have to be real good to start with, you need to be daring and outrageous, in other words what Klingon really is.

The RakeHell cut it's teeth with a musical number. We found a neat little Klingon filk called the Warrior's Song - a reworking of the Monty Python Lumberjack Song. We did it on stage at a con, and it ended with the warrior chorus killing me. I've been dying on stage ever since.

Now you don't need to be an amazing troupe of performers, but the key is to have fun and have fun by being fun. Like-minded people will come to you and want to have fun too. And you also need to be sure to spread the praise around. Too many ships - as a prelude to their dying - became backdrops for the Captain's ego. If you aren't making sure that all you folks are involved, regardless of ability, you will lose people and new people will see no reason to join in.

The first rule of KAG is "Have Fun" and if you and your crew are having fun, it will be infectious and you will naturally grow. And when new people DO join, the work is just begun, you need to make sure they are having fun too.

The worst thing you can do is to sit on your hands and wait for the glory to come to you, go get it!

- Qob!