Defeat the Hangover!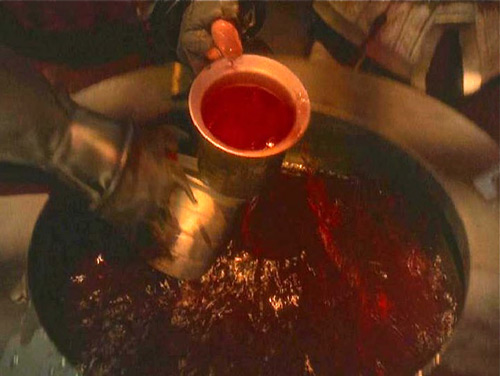 Saurian Brandy, Romulan Ale, and Bloodwine, oh my!
Parties abound at conventions. Alcoholic refreshments usually abound at parties. The best, first step to avoiding alcohol poisoning and its consequences (worshiping at the feet of the porcelain god) is to know your limit. Falling down drunk Warriors are no fun for anyone. But it's easy to over-imbibe in the company of friends. Here are some tips available on the Internet to avoid the dreadful aftermath of drinking -- the hangover.
One suggestion is to eat greasy foods before drinking. Grease coats the lining of the digestive system and prevents too much absorption of alcohol, especially too fast.
Another suggestion is to drink water between alcoholic drinks to insure adequate hydration. Alcohol tends to dehydrate the body, so providing it with H
2
O will keep some of the symptoms of a hangover at bay.
Another suggestion is to drink sports drinks the morning after. It was also reported that Pedialyte (electrolyte solution for infants and children) is more easily and quickly absorbed than adult sports drinks. Along with water, the body tends to lose electrolytes and other minerals when too much alcohol is drunk.
Also, years ago I came across a remedy for the hangover in the July 1992
Omni
magazine. George Nobbe wrote an article for their "Continuum" section which reported that taking the combination of a large glass of orange juice, a normal dose of analgesics (your choice), and a normal dose of B vitamins before going to bed (after a hard night of drinking) can substantially reduce or eliminate the effects of a hangover.
He referenced a British biochemist, David H. Blass, with discovering this. I have not tried it myself, but did tell someone already in the sickening throes of a hangover the following day about the article. She reported that the recommendations in the
Omni
article helped her recover.
KEELA zantai-SEPTARIC
Legate of KAG's Imperial Xeno Legion
CO, IKV Raging Wolf
Above holo-image courtesy of
memory-alpha.org