K
lingons
R
ise
I
n
S
pirit

May 2011 Memorial Day Weekend -- ConQuesT 43!
May 25-27, 2012
Klingon City
(Kansas City, MO)
Where else can you have your Bar-B-Q, eat it, and lick your friends fingers too!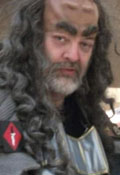 The Special Klingon Guest is
KRIS
-- Founder of the Klingon Assault Group!
List of events:
The Klingon Meet and Greet media event will be at a local BBQ place of choice, after which Fridays night's Party theme is "The End of Your World Party
-- and we're just here to watch!
"
On Saturday there will be Klingon panels and More Klingon Panels from Costuming to Weapons. In the afternoon we will hold an all Klingon Meeting along with the presentation of banners from every ship and fleet in attendance. Saturday evening will end with the Klingon's Black and Blue Ball Party in the Klingon Party Room which may even include a Ball Drop at Midnight to usher in the
Klingon New Year!
More events to come.
This is a small convention that could use a big Klingon response. The Hyatt Regency Kansas City -- CrownCenter.Hyatt.com -- is a huge hotel; we have more than enough space to do whatever we want. More details will follow as they become available.
For more info on ConQuesT please go to
http://www.conquestkc.org/
Lt. Col. MARQIS sutai-QUL
KC Squadron Commander
CO of the IKAV Oath of the Demon Targh
Cold Blood Quadrant
rat_pac_88@yahoo.com